Best Online MBA Colleges in India
Check out the best Online MBA Colleges in India. You should only enrol in online degrees from institutions that the UGC has acknowledged. Before enrolling in an online degree programme, you must research the university's rankings such as the NIRF ranking and NAAC scores.
Online MBA Degrees in India are more advantageous than traditional ones since only universities authorised by the University Grant Commission are permitted to provide online, distance learning, and correspondence courses in India. The online MBA programme in India was created and approved by the UGC. In India, an online MBA degree is quite significant.
The Online MBA Course was primarily developed for working professionals who lack the time to attend normal sessions. Whereas an online MBA degree provides the option of online education without interfering with one's professional work.
Students in India who pursue an online MBA benefit from the amazing chance to blend their academic, career, and personal lives. In India, it's difficult to maintain a standard of living. Demand is always increasing, and so are the prices for servicing those wants. In such a situation, it might be challenging for students to stay during a no-pay period in order to advance their studies.
Students who enroll in an online MBA programme have liberty. It implies that students can benefit from the chance to further continue their education without sacrificing their job.
One can complete an online MBA without physically being present in a classroom or campus, as is necessary for a full-time MBA programme. Instead, one can take the sessions whenever it is convenient for them and can continue working while pursuing their degree.
As a result, students can continue to meet other responsibilities.
Benefits of Doing Online MBA Courses in India :
Adapts to Any Schedule

Get an International Perspective

Take Class Where You Want

Work While You Study

Learn in a Digital Setting

Advance Your Career

Study Freely

Cost Efficiency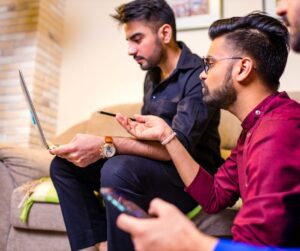 Why pursue an online MBA?
Study at the business school of your dreams 

No entrance exam necessary (in most circumstances)

Studying while still working

Never have to go to campus

You may study whenever you want

A variety of specialities to select from

It's possible to study at your own speed

Cost-effective charge structure

Plan your exam for the time that is most convenient for you
Best UGC Approved Online MBA Colleges in India
IMT Ghaziabad CDL
The Institute of Management Technology, Ghaziabad, established in 1980, is one of the country's best management schools, focusing on equipping students with managerial skills through innovation, execution, and social responsibility.
IMT CDL provides a variety of management programmes.
The AICTE-recognized programmes use innovative technology to conduct classes and link students to information and resources both inside and outside of India.
Specializations: 
Business analytics

Marketing

Finance

Operation Management

Human Resource
Eligibility Criteria: -Graduation in any discipline, from any recognized University. 
Visit : IMT Ghaziabad Distance MBA for more information
Amity University
Amity's Online MBA is India's only online MBA to be rated internationally by QS. It is one of India's fastest-growing educational institutions. The University Grants Commission has acknowledged it as India's first online programme (UGC). The institute offers a variety of Bachelor's, Master's, and PGD programmes online. Amity University's MBA programme is regarded as one of India's top online MBA programmes. The institute's online courses are created with the advice of professionals and experts in the field, and they are often updated to keep up with developments in the market.
Specializations
Digital Marketing Management

Human Resource Analytics

Information Technology Management

International Business Management

Data Science

Insurance Management

Petroleum and Natural Gas Management

Retail Management

Production and Operations Management

Marketing and Sales Management

Digital Entrepreneur

Hospitality Management

Entrepreneurship and Leadership Management

Business Analytics

Global Finance Market

Finance and Accounting Management
Eligibility Criteria: Graduation completed with any discipline
Jain University Online MBA
Jain University is a Bangalore-based deemed-to-be university. Dr. Chenraj Roychand established the university. Different online courses are offered by Jain Online, a division of Jain University, in the distance & online format. It is certified with Grade "A" by NAAC and approved by UGC. An online MBA from Jain University takes two years to complete. Our online MBA programme aims to improve students' leadership and business acumen, accelerating their transition into management positions in corporations.
Specializations:
Advertising and Branding

Banking and Finance

Business Intelligence and AI (Accredited by AI Society, UK)

Business Intelligence and Analytics (Accredited by IoA, UK)

Data Science and Analytics

Digital Marketing and E-commerce

Entrepreneurship and Leadership

Finance

Finance and Leadership (Accredited by CIMA, UK)

Finance and Marketing

FinTech

General Management

Healthcare Management

Human Resource Management

Human Resource Management and Finance

Information Technology Management

International Finance (Accredited by ACCA, UK)

International Marketing (Accredited by CIM, UK)

Investment Banking and Equity Research

Logistics and Supply Chain Management

Marketing

Marketing and Human Resource Management

Project Management

Strategic Finance (Accredited by CPA, US + CMA, US)

Strategy and Leadership

Systems and Operations Management
Eligibility: Pass in any stream of an undergraduate (Bachelor's) programme with a minimum three-year duration from a UGC-recognized university.
Manipal University Online MBA
Manipal University, Jaipur is a private university that was founded in 2011. The university has received approval from the All India Council for Technical Education (AICTE), University Grants Commission (UGC), and WES in addition to NAAC accreditation with a grade of A+ (World Education Services). Our online MBA programme will provide you with the skills necessary to lead successfully in today's dynamic society. You can select from a variety of new age electives to specialise in while gaining skills that are useful in the job market.
Specializations
Finance 

Marketing

HRM

Analytics & Data Science

Retail Management

BFSIIT & FinTech

Operations Management
Eligibility: Candidates must have a bachelor's degree in 10 + 2 + 3 years from a recognised university.
Symbiosis Pune Online MBA
Symbiosis, founded in 1971, is one of India's leading management education institutes. Symbiosis, which was founded by Dr. S.B. Mujumdar, has already established a significant presence in the field of distant and online learning.
The Symbiosis organisation includes Symbiosis Skills & Professional University (SSPU). SSPU's Symbiosis Center for Online Learning provides a variety of online courses (SCOL). SCOL wants to make higher education accessible to people from all background of society.
Symbiosis provides the cheapest online MBA in India. It is approved by the UGC.
Specializations
The following specialisations are offered by the Symbiosis Online MBA:
Healthcare Management

Human Resource Management

Finance

Marketing
Eligibility: Bachelor's degree from a recognized University
NMIMS Online MBA
The Narsee Monjee Institute of Management Studies (NMIMS) is one of India's leading business schools. For working professionals and recent graduates, they offer a variety of postgraduate management courses, including the online MBA in India.
NMIMS is a deemed institution, and its programmes are recognised by India's University Grants Commission (UGC) and Distance Education Bureau (UGC-DEB).
NMIMS provides the online MBA courses via online and distant learning.
Benefits of NMIMS's Distance Education MBA
Certifications Obtained

Case Studies

Extracurricular activities

Curriculum upgrade

Widespread corporate acceptance
Specializations
The online & distance MBA programme at NMIMS offers a total of 10 specialties:
MBA in Marketing Management

MBA in Financial Management

MBA – Information Technology and Systems Management

MBA in International Trade Management

MBA in Human Resource Management

MBA in Supply Chain Management

MBA in Banking and Finance Management

MBA in Operations Management

MBA in Retail Management

MBA in Supply Chain Management
Eligibility: Candidates must have a Bachelor's Degree with a minimum of 50% marks from a recognized board of education.
ADMISSION CONSULTANTS SERVICES
Choose The Course of Your Choice